Fleet
Il-76TD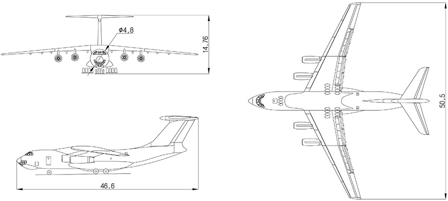 Il-76TD aircraft is the evolution of the transport modification of the Il-76T aircraft.
The transportation efficiency of the aircraft has been improved, in comparison with Il-76T, by way of increasing maximum takeoff weight from 170 to 190 tons, maximum commercial load from 43.4 to 50 tons,
and practical flying range with increased maximum load. Due to increased maximum takeoff weight and commercial load, and in order to improve operating life figures, the structures in the wing, fuselage and landing gear have been reinforced.
Main technical characteristics
Length:
46, 6 m
Height:
14,76 m
Wingspan:
50,5 m
Number x engine type:
4 x turbojet engine
Engine:
D-30KP series 2
Cruising speed:
750–780 km/h
Flight altitude:
9 100–12 100 m
Flight range
with payload of 40 tons:
4 900 km
Takeoff distance:
1700 m
Landing distance:
930 m
Maximum takeoff weight:
190 tons
Maximum payload:
50 tons
A300B4-200F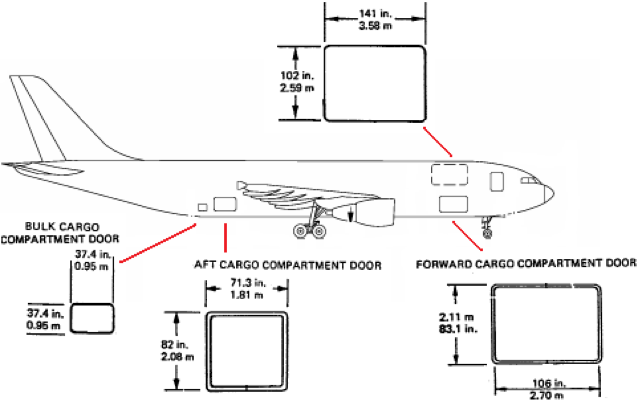 The Airbus A300 (A300F or A300B4) is a medium size cargo aircraft – up to 44 tons payload which large side cargo door and two belly section doors, standard version consists of 20 main deck pallet positions plus additional space for
lower deck containers, aircraft is equipped with roller bed floor systems to position pallets and containers inside of the cargo cabin.
Loading and discharge of the containers or pallets requires a high loader, aircraft is suitable for cargo of all kinds including live stock and perishables.
Released in 1972 as the world's first twin-engined widebody, it was the first product of Airbus Industrie, a consortium of European aerospace manufacturers, now a subsidiary of Airbus Group.
Main technical characteristics
Wingspan:
44, 84 m
Length:
54,08 m
Height:
16,53 m
Cruising speed:
847 km/h
Max altitude:
10,670 m
Max take-off weight:
165.000 kg
Max gross payload:
43.500 kg
Fuselage diameter:
5,64 m
Cabin clear height:
2,49 m
Gross volume:
416,4m³
Range (Max payload):
7.050 kg